The only way to do a great job is to deeply love what you are doing.
Steve Jobs (1955-2011, Founder und CEO von Apple Inc)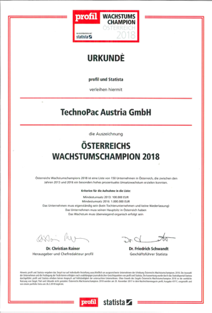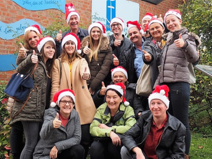 Dear Business Partners, Dear Friends,
We slipped into year 2018 with much enthusiasm and joy and we wish also success, happiness, health and satisfaction for you and your family.
In the last 6 years a lot has changed within Technopac Austria. Our team has grown up to 17 employees, our turnover has increased fivefold, we are very happy to serve customers in 32 countries where our extraordinary service is highly valued and highly praised by our valued customers.
One thing has remained the same since the beginning. We love our job, our products and our long-term relationships with our partners.
Each new day continues to bring challenges, and in a constantly changing market we need to be more flexible than ever. Only through the great passion with which we engage our tasks and conduct this business will we be able to meet all these new market expectations and earn the continued trust of our customers.
We are more than pleased to have been recognized by the business magazine Profil and Statistica for "Growth Champion 2018" on the basis of our results during the past years. Amongst all companies in Austria we were able to reach number 57. We are very proud to have received such an honor and we would like to share this gratifying award with you.
You, our partners have made a significant contribution to this success and we would like to thank you for that.
Of course, we will not stop here and will strive to continue to grow and improve in every direction. Thank you for continuing to support us through your trust, loyalty and friendship.
Your Technopac Austria Team