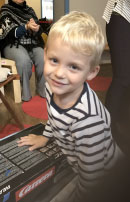 Dear customer and Partner,
Peter is 5 years old and lives with his mother and two younger brothers in Vienna. Peter's father is a drug addict and very violent. All the children and the mother were heavily abused, both, physically and mentally.
Peter suffers since then from periodic eating disorders and repeated anxiety attacks. He is usually very restless and often extremely aggressive towards many people in his immediate space. His ability to forge close human relations is severely impaired.
In order to cope with this trauma and sustainably improve Peter's mental state, doctors recommend a very expensive dolphin therapy which a single mother cannot afford. The therapy will take place in Antalya / Turkey and Peter will travel there with his mother and his two brothers.
Also this year Technopac Austria has decided not to give commercial Christmas presents in favour of making this financial contribution in your name via "Licht für Kinder" to enable Peter to fulfil his lifelong dream. The organization of the trip has immediately begun and we will soon inform you about Peter's adventure and progress with a little travelogue. We were very touched by the fate of this small family during the personal hand-over of some presents and the voucher for the therapy.
We very much thank you in Peter's name.
We wish you and your families a Merry Christmas and a Happy New Year 2017 and are looking forward to good cooperation during the next year.
Your Technopac Austria Team